When should I start preparing the IT requirements of a new employee?
There are a lot of steps and tasks to be completed when you are hiring a new employee and the IT requirements of that new employee can be just one step in the whole process.  This week we want to highlight how important it is to give your IT support sufficient time to setup all the required hardware, software and user accounts.  We'll also break it down into the different stages and points that you should consider when preparing for a new employee.
First off, how much notice does your IT support require to successfully setup a new employee ready for their first day?  There are two main factors which can drastically change the required time which we need to consider here:
Is new hardware required?
If existing hardware, is it fit for purpose and has no outstanding issues?
If new hardware is required, the more notice you can give the increased chance of successfully ordering, receiving, and prepping the devices in time for the new start there is.  Currently, with the worldwide chip shortage (read our blog post on this here) the lead times for laptops and PCs are increasing.  This means the likelihood of finding a fit for purpose spec off the shelf is extremely slim and will require a build date, subject to parts being in stock.  As a bare minimum 1 month's notice for new hardware for a new start should allow for build, delivery, workshop prep and on-site setup ready for your new start.
If there is existing hardware, it is important to schedule a health check of the PC as soon as you know you wish to assign this PC to the new start to ensure the PC will be fit for purpose and in working order.  Remember, if any issues are discovered and you require to go for new hardware, the timescales above would apply.  So, as soon as you know you are hiring a new employee and want to use existing hardware, schedule a health check for the hardware.  This will give you maximum chance of successfully having a fully functioning setup for your new employee.
It basically comes down to that the earlier you involve your IT support, the more chance of success you have on the first day of your new employees career with you.  Here at MJD, we encourage our clients to get in touch with us early so that we can help advise on the best solutions and setups for the new role.  We are here to ensure IT improves your efficiencies and supports your core business, not hinder.
There are a couple of other factors that are important to consider when getting your new start setup, which we have detailed in a handy infographic to help you make sure you have all the details decided prior to setup of your new employee.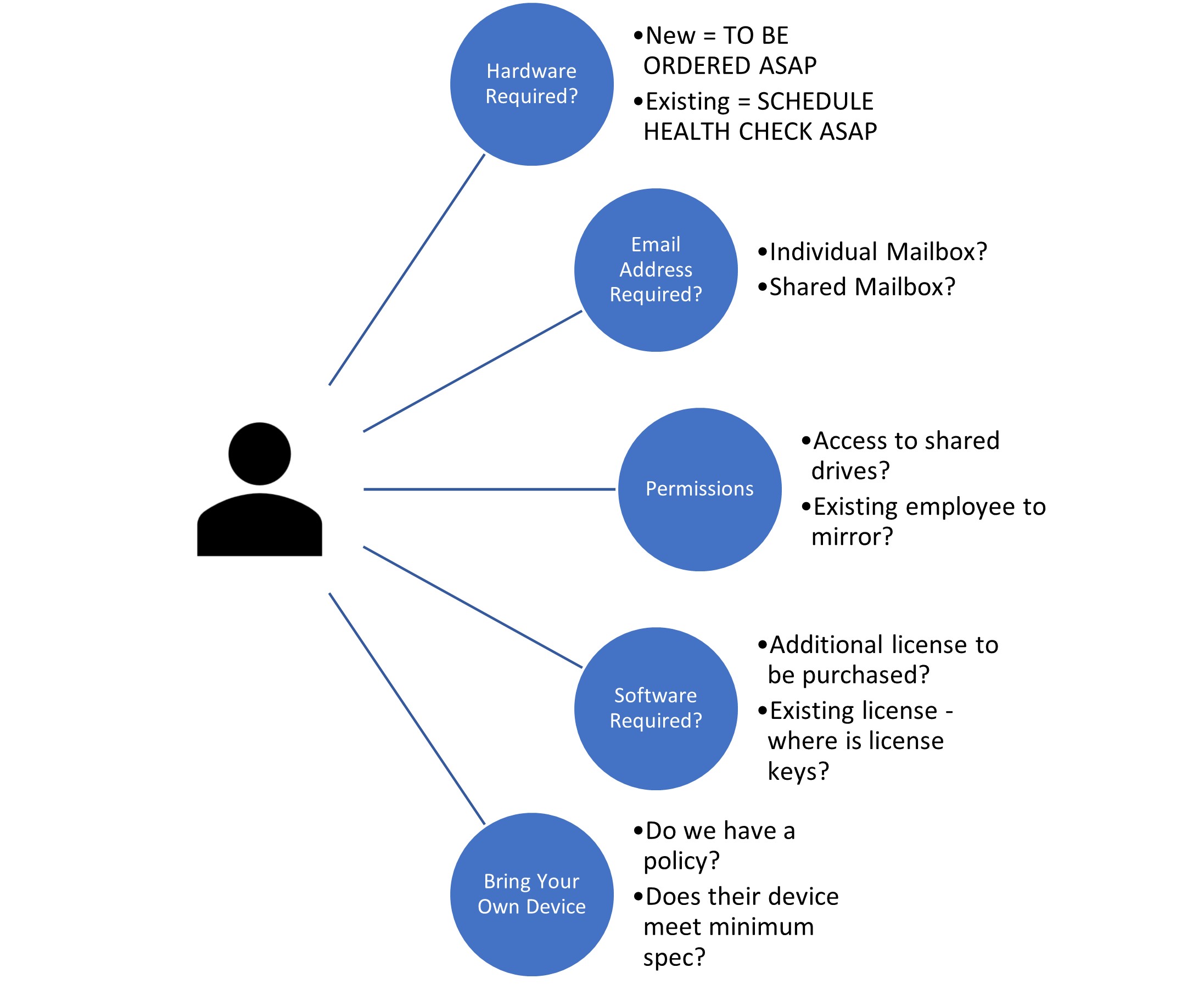 This infographic should help you to cover the main points to be considered in the IT setup of a new employee and help you have a successful first day for your new start!  If you have any questions after reading this post, please don't hesitate to get in touch with the team here at MJD.  Let's make IT work for YOU!