What is the Human OS and why is it important?
When considering cyber security we can often jump straight to considering how technology can protect us and completes our security package.  However, there are actually 3 pillars of cyber security.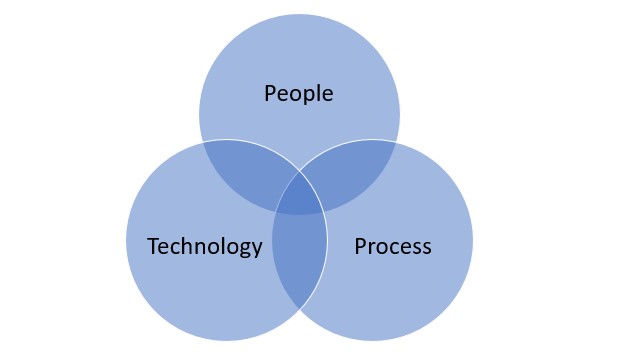 As you can see from the Venn diagram each pillar is equally important to the overall cyber security of your network.  Your processes may already be in place but you had not considered them part of your cyber security.  Such as hierarchy of access to information, password policies, data control and data request processes.  But this may just require a culture shift to include the review and adaptation of processes and policies within you overall cyber security plan.
The element which has not had as much development over the years to match the speed of technological development is the people asset:  The Human Operating System (OS).
This is the most common area for weaknesses in a companies overall cyber security.  Now if we consider the fact that this year Webroot reports phishing URLs grew by 640%.  This highlights the  importance of gearing our three pillars towards reducing the inherent risk.
Now, under technology our SPAM filters can check links, quarantine potential risk emails and check links as they are clicked on.  Your processes may filter out requests for information, detailing who can have access to what and how someone can request information.  But the people pillar is arguably the most important to focus current investment due to the lack of investment in comparison to the development of the other two pillars in recent years.
So, how can we improve and strengthen the security of our Human OS in our organisation?  Training.
There are various options and plans of how to deploy training in your organisation.  Here at MJD we can offer dedicated training sessions with our Cyber Security Specialist, tailored to our client's organisation.  We would also recommend implementing a continuous and random on the job training programme.  We can create training campaigns where fake phishing emails are sent to collect data on who clicked on links and how people interact with the email.  It then instantly provides a small training session for those individuals who do click on the link and enter information.
These campaigns allow you to analyse the statistics of how many times people click on the links, to identify individuals who may need more targeted training or equally to give people praise for continuing to ignore phishing emails or improve on their click rate.
The team at MJD can help you create a plan to keep your Human OS up to date, as well as managing your technology updates and IT security.  Get in touch and let's make IT work for YOU!