Work From Home Diaries – Flora, Skye and Shadow
Well hoomans, Flora here, since our last update the dastardly duo has become the three amigos!  Myself and Skye have welcomed Shadow into our canine team here at MJD.  Shadow has joined us in the roll of Petwork Security Analyst.  Please join us in a warm cyber welcome to Shadow!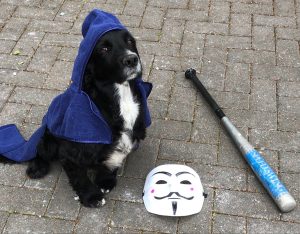 The role of Petwork Security Analyst is an important role, Shadow helps his hooman secure computers and networks from security threats like phishing attacks, although why a fish who lives in the water would want to go anywhere near an electronic device beats us.  Shadow also sniffs out any potential intruders and points these out to his hooman to lock it down!
The work from home life is the one for us dogs, we've mastered the art of the video calls from our beds.  Although working a mouse or keyboard with our paws continues to be a rather tiresome task, which we just end up delegating to the hoomans.  We also like to make sure that during the MJD meetings that we make our presence known so that the hoomans don't all forget who the real management are!
The lovely summer weather has allowed us some even more exciting activities at a weekend.  Skye has discovered swimming in the sea, much to my distaste, I am not so keen on jumping into the waves.  I prefer to paddle my paws.  Shadow loves to keep an eye on all the birds in the garden and on a walk and loves a cuddle with his hooman and mini-hoomans at the end of a hard day's work!
Some of you may be wondering whether we managed to get our treat pay rise that we were negotiating in our last update, and after many puppy dog eyes to our hoomans we all secured an extra treat!  Woof!  Time to launch the next round of negotiations for more sleep time, Skye, Shadow on the count of three, puppy dog eyes! 1…2…3!