Have you ever thought about the security of an email or a file you send? What is in the contents of your email or what data is held within the file you need to transfer to someone? Every day we communicate via email to send information and documents, but sometimes the contents of that email or file are sensitive or confidential. If we were passing on this information face to face, we wouldn't just discuss it at the kettle or leave the files lying on someone's desk for them to get when they come back to their desk.
This is where email encryption comes in. With an email encryption service you can send confidential emails with the confidence that only the intended recipient will see the email. You can also see when the email is received and opened. This helps you to maintain compliance with regulations such as GDPR. Here at MJD, we work with our partner AppRiver and recommend their Email Encryption service alongside their SPAM filter. See our SPAM filter blog here.
There are a great host of features available with Email Encryption, lets take a look at them here:
– Office 365 compatible
– One-click encryption in Outlook, Windows and Mac desktop agents
– Track and prove when an email is received/read/replied to/forwarded
– Provides a control panel and registered mail options
– Recall messages, even after they are read
– Add passwords to confidential emails
– Facilitates large file attachment encryption and delivery, up to 100GB
– Built-In Secure E-Signature feature
So how does email encryption work? When you click on the send secure message, the email is then directed to the secure cloud platform to then be sent to your recipient.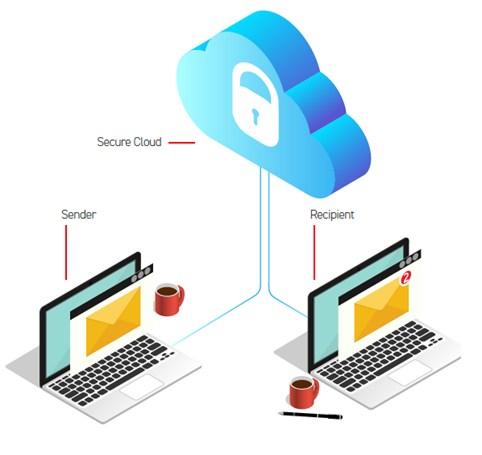 Why should I implement email encryption now? As we have increased need to manage regulations on data protection and the trust in the security of emails reducing, secure business communications are becoming a necessity. By protecting sensitive and confidential data, you provide employees and customers with a method of communication that guards against breaches and permits freer, more effective communication. In the new workplace environment where the majority of us are now working from home, electronic communication is the main way we keep in touch and transfer information and data between us, we need to think about how to further protect our data and information. The encryption service we recommend and provide is fully brandable so you can help to increase customer confidence, through the encryption and seeing your brand in the secure cloud together.
This solution is not expensive and can transform the way you transfer sensitive information for very little cost. You don't need to license your whole site, it is done on a per user basis so you can provide the service to your users who deal with sensitive and confidential information on a regular basis.
If you are interested in how this email encryption service may work for your business please don't hesitate to get in touch with the team here at MJD and we'd be more than happy to discuss and provide demonstrations of the service in action.